I see advertising for WHITE Pomeranian puppies every week.
The white Pomeranian puppies referred to in most of this advertising are usually not true white Pomeranian puppies.
These "would be whites" may appear "white" to the uneducated but in actual fact these white Pomeranian puppies are usually cream or parti colours or even orange as adult Poms.
The usual ploy is to advertise a very light coloured Pomeranian puppy, a cream puppy or a very light white and orange parti Pomeranian puppy as white.
Pomeranian Coat Colours Often Change
Many disappointed new Pomeranians owners have sent me photos of Pomeranians sold and registered as white Pomeranians. Some of these white Pomeranians have not even been cream at maturity but have matured to be orange or parti colour Pomeranians.

One of the many scam cases I have seen even include an orange Pomeranian, who was registered as White and sold by a Registered breeder as a White Pomeranian. This little Pomeranian is now a lovely clear orange Pomeranian.
Most of the people selling cream, orange and parti colour Pomeranians puppies as white Pomeranians are just inexperienced. Other sellers are knowingly using a scam to attract buyers and sell puppies.
Cream Pomeranians and Parti Colorus often start life as near white puppies. Cream and pale orange and white parti pomeranians often start life as very close to white in colour. To the uneducated these puppies may look white, but they will not stay white. It is extremely hard to be sure if a puppy will be white until at keast 6 or 7 months of age.
A white Pomeranian at 6 to 12 weeks of age should be an absolute ice white colour, with no cream, lemon or very pale orange patches or shading on any parts of the puppy's coat.
Carefully check the colour of hair behind the ears of the puppy.
This can be a very helpful guide to the adult colour of most Pomeranian puppies. Cream, very pale orange or lemon shadings behind the ears or in the hock region may mean that this puppy will be a cream or even a light orange Pomeranian adult not a White Pomeranian.
Parti-coloured Pomeranians May Appear White as Pups
Very faint cream to very pale orange shadings or any patches on any other part of the Pomeranian puppy's coat often indicates that the Pomeranian puppy is an orange and White Parti Colour.
Owners who have purchased this type of Pomeranian Baby have told me they bought what was advertised as a white Pomeranian and thought the very, very pale cream patches where just dirt.
One owner even told me how she had tried to remove the "dirty" marks with a damp face washer, only to find as the months passed these pale patches darkened until her puppy was a parti colour.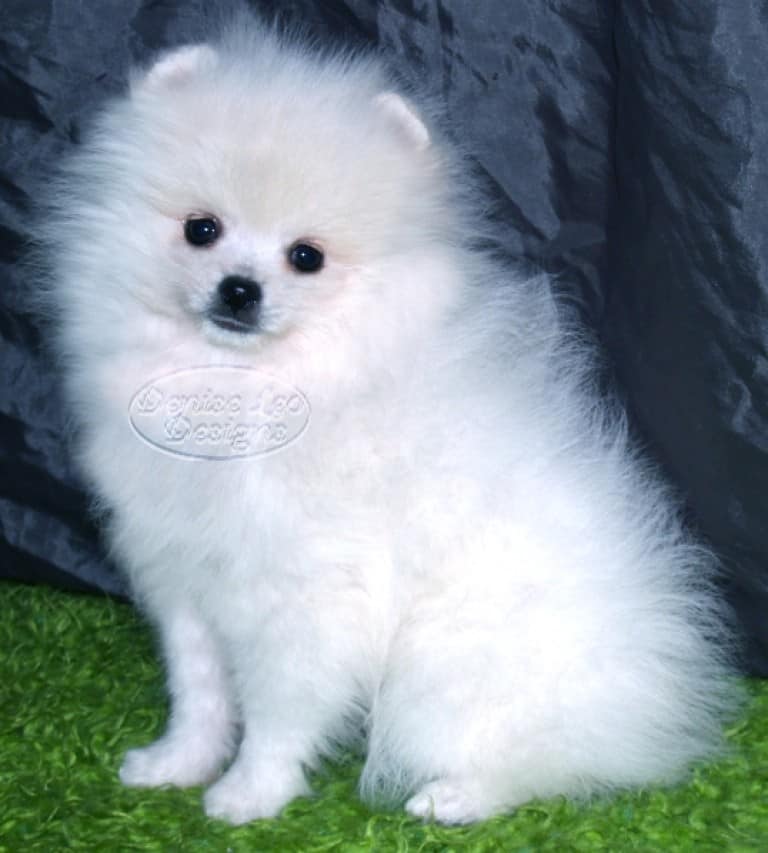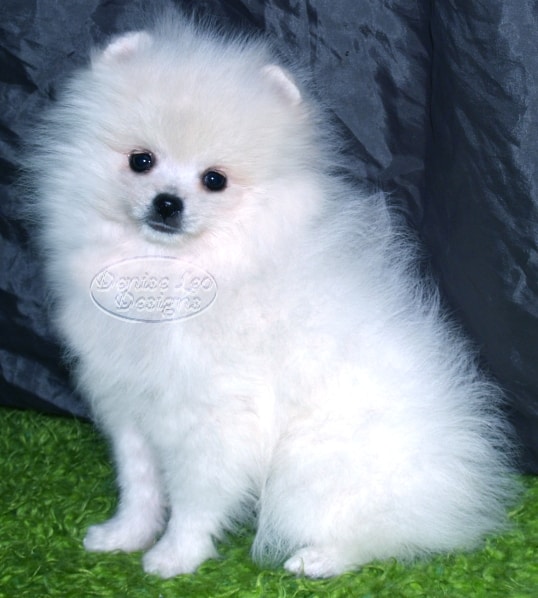 At 8 or 9 months of age this Pomeranian Puppy was a pale orange and white parti colour. Pomeranian adult coats and colours can differ greatly from the soft fluffy baby pom coats.
As a breeder of show Pomeranians with 40 years experience,  I have found that often light Pomeranian puppies will darken and dark Pomeranian puppies will lighten.
Dochlaggie have often had litters consisting of darker sable Pomeranian puppies and nearly white puppies. All the puppies ended up to be a similar orange colour at maturity. In some cases it may be impossible to accurately predict the ultimate colour of the Pomeranian. View this article on coat colour changes in the Pomeranian.
Pomeranians start changing from puppy coat to adult coat anywhere between 4 and 8 months of age. Major changes can occur in a Pomeranian puppy's coat colour during this period.
I have seen very close to white Pomeranian puppies with pale orange shadings behind the ears darken with age, until as an adult Pomeranian this puppy may be a light orange Pomeranian.
Then I have bred cream sable Pomeranian puppies, born a dark grey, fade to a very pale creamy white coat, with very pale grey coat tips at 9 months of age.
How to Safeguard Yourself from White Pomeranian Puppy Scammers
Ask to see the parents of the white Pomeranian puppy.
What colour are the parents of this puppy?
 Are the parents registered with the kennel club?
Ask to see WHITE ADULT Pomeranians.
The above are extremely important safeguards.  As yet we do not have a puppy scammer list Australia available, so to avoid puppy scams Australia buyers need to proceed with caution. Unfortunately there are many Pomeranian scams on the internet.
Puppy sellers may be able to send photos of Pomeranian pups that appear to be white. The photos may have been touched up in photo shop, or the photo has been taken in the correct light etc. The photos may not even belong to the seller.
I have found people using photos of my white Pom puppies on the net to sell white Pomeranian puppies. One "lady" had used initiative, by adding a nice pink heart to blot out my copyright notice.
I think in this case, the seller had puppies to sell, but the unfortunate buyer was not going to receive what was advertised. If the seller is indeed a breeder of white Pomeranians they will own white Pom adults and they will be able to show you white Pomeranian adults.
We all know the story that young men should look at their girlfriend's mother to see how the girlfriend will age, graceful or otherwise. The same applies to all Pomeranian puppies, carefully check the parents of your new puppy. Chances are very good that the Pomeranian puppy will look like it's parents at maturity.
Visiting the Pom Breeder is Important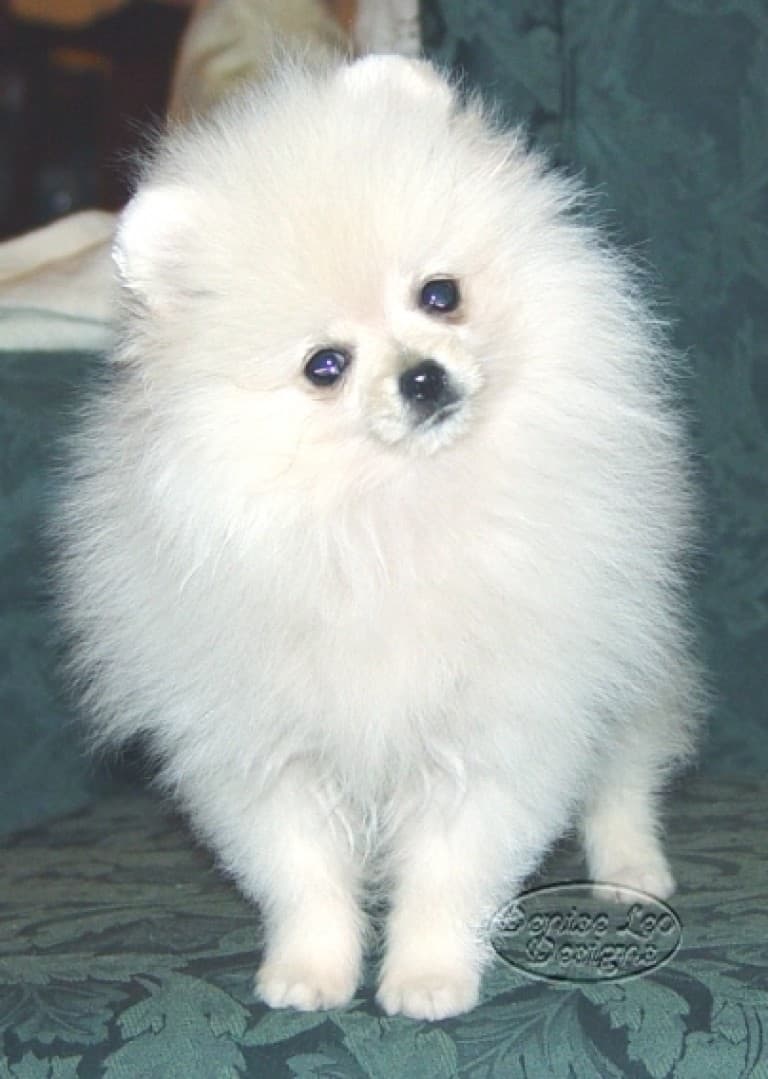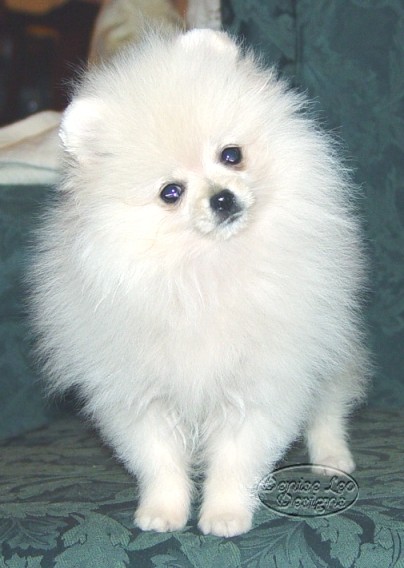 If possible visit the breeder and see the puppy and the breeder's other Pomeranians before purchase.
If you are buying on the internet without visiting the breeder, ask to see photos of white Pomeranian ADULTS, owned and bred by this Breeder.
Alarm bells should ring, if when viewing a website of a seller, there are only white Pomeranian puppies pictured and no white adult poms on the website. You could also ask for something in writing that your new baby is a white Pomeranian and will be white when an adult.
Purchase from a Registered, Reputable Pomeranian Breeder
A registered, reputable Pom Breeder registers all their puppies, proves their Pomeranians in the show ring prior to breeding,  health tests, DNA profiles, micro chips, vaccinates, does not accept deposits on unborn, or newborn puppies, does not have credit card or PayPal signs on their website.
The Main Aim of a Registered, Reputable Pomeranian Breeder is to Promote, Preserve and Protect the Pomeranian Breed
A registered, reputable Pomeranian Breeder does not list puppies for sale at the many dubious pet puppy sale websites.
A registered, reputable Pomeranian Breeder does not sell puppies through pet shops.
Puppy Farmers aim to make money, quality disappears in the quest for quantity.
Visit the Pomeranian Breeder Directory to find Pomeranian breeders Australia. Buy white Pomeranian puppies. Locate Pomeranian puppies Australia wide.
Copyright Pomeranians Australia. All Rights Reserved.
References and Further Reading
[1] Denise Leo "The Pomeranian Handbook".
The Pomeranian Handbook
( Printed and shipped in Australia).