Detailed information on Pomeranian Colours and Patterns as accepted by the Australian National Kennel Council breed standard.
The colour section of the breed standard
" All whole colours permissible, but free from black or white shadings. Whole colours are: white, black, brown, light or dark, blue as pale as possible. Orange which should be self-coloured and bright as possible, Beaver. Cream dogs have black noses and black eye rims. Whites must be quite free from lemon or any other colour. A few white hairs in any of the self-coloured dogs permissible but undesirable. Dogs (other than white) with white or tan markings highly undesirable and not considered whole coloured specimens. In parti-coloured dogs, colours evenly distributed on body in patches; a dog with white or tan feet or chest not a parti-coloured dog. Shaded sables should be shaded throughout with three or more colours, the hair to be as uniformly shaded as possible, and with no patches of self-colour. In mixed classes, where whole coloured and parti-coloured Pomeranians compete together, the preference should, if in all other points they are equal, be given to the whole coloured specimens. "
Pomeranian Colours and Patterns
Orange:
A clear vibrant colour, which, at the moment, is the most favoured of all colourings. Orange Pomeranians may vary from intense deep rust right through to rich gold and a light honey blonde colour.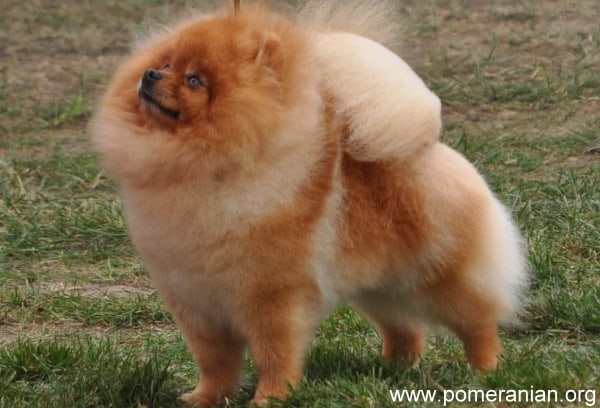 There are two types of orange in the Pomeranian. Orange puppies can be born a sable colour or a clear orange. Puppies born a darkish sable frequently clear to a lovely orange at maturity. The other type of orange Pomeranian is born very pale and, in some instances, almost as white as a new-born. The coat colour with this type of orange will deepen until, at maturity, this puppy is also an orange. The orange Pomeranian born sable will, as an adult, have darker points than the puppy born nearly very light cream or pale gold.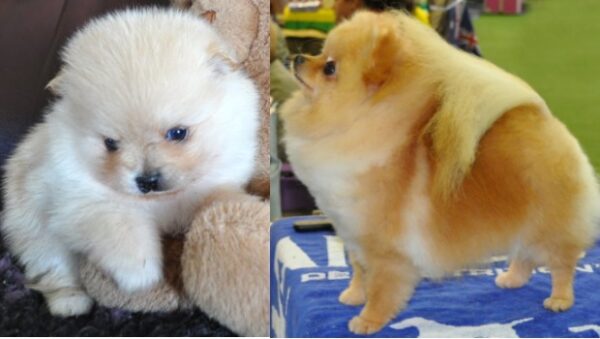 Blacks: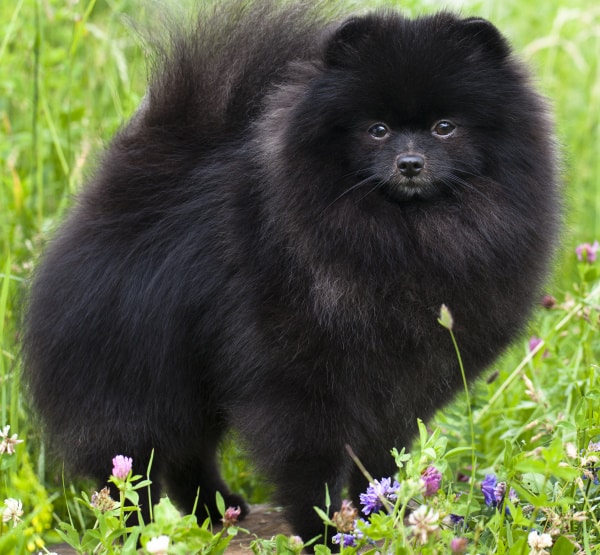 The black colour Pomeranian dog possesses a black undercoat and black guard hairs. Points must be black. Blacks should be kept out of direct sunlight to avoid a reddish tinge developing on the coat. Black Pomeranians frequently will have a few white hairs in the coat, typically on the chest or between the pads. For complete details and photos of black Pomeranians visit this great article on the black Pomeranian dog.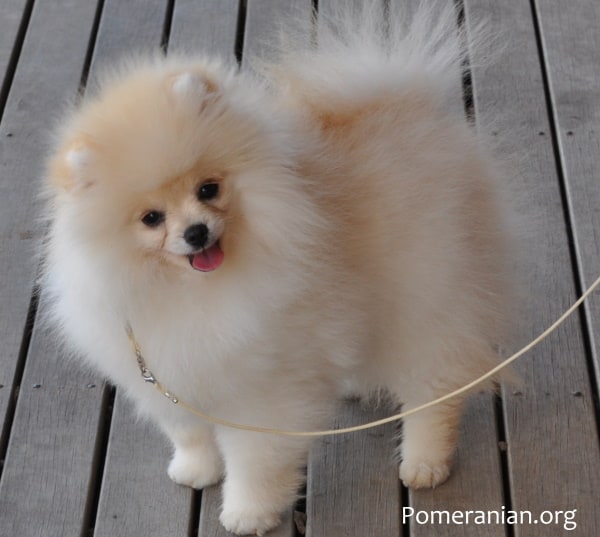 Cream:
The cream is an extremely pale orange. Creams should be self-coloured, with no white breechings. Because of the harsher texture of the guard hairs, the topcoat may appear darker. Cream Pomeranians must possess black eye rims, nose, lips, and pads and these puppies are typically white at birth.
Beaver:
Beavers are born a dark silvery grey. Beavers may range in colouring from a light biscuit to darker brownish-grey colour with a silvery blue cast to the coat. Self-coloured points are required on beaver Pomeranians. A true beaver Pomeranian has hazel eyes.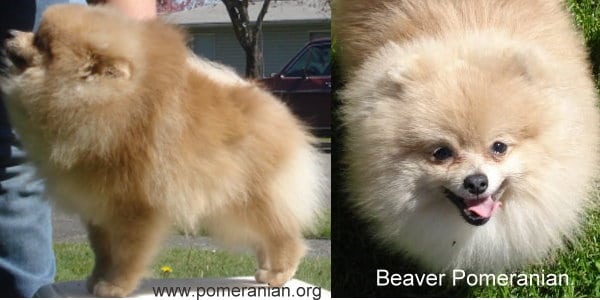 Chocolate: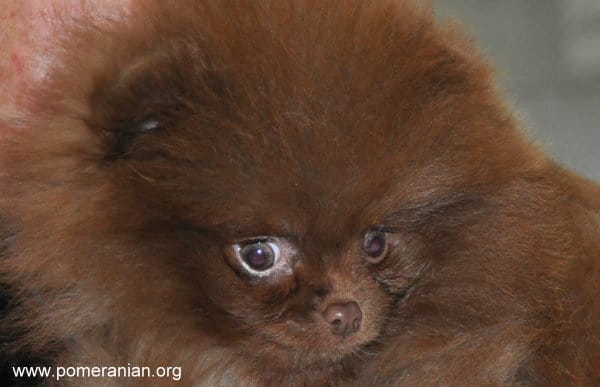 Chocolate is the common name for the Pomeranian dog brown colour. Chocolate Pomeranians are a rich brown. A Chocolate Pomeranian dog will have self coloured points and hazel eyes.
Blue:
Blue Pomeranians are diluted blacks and must have blue points.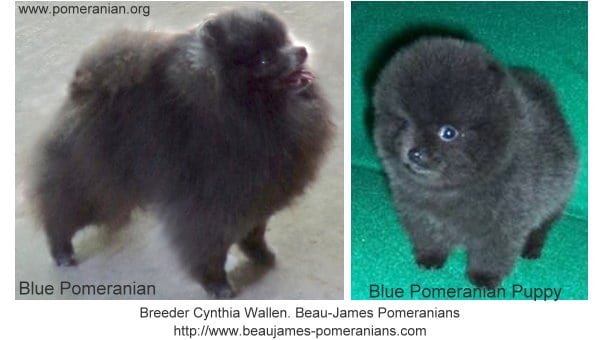 Sable:
Shaded sables are coats which are shaded all through with three or more colours. This shading must be as consistent as is possible with no areas of self-colour.
Orange Sable:
Orange sables must have an orange body, lighter orange, or even creamy undercoat with black tipping-on guard hairs.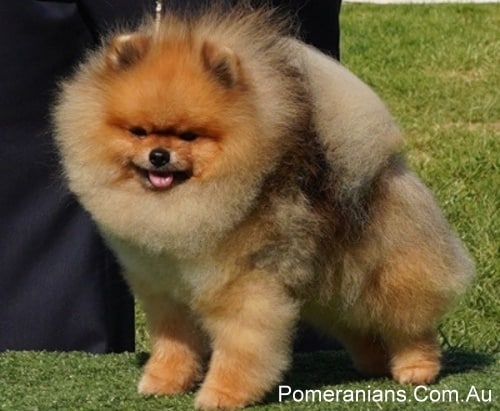 Cream Sables:
A cream-sable Pomeranian is born a sooty grey. The grey fades until the Pomeranian, at around 8 months of age, appears as a cream with black tipping to the guard hairs. The primary difference between a cream sable and a wolf sable may sometimes be confusing. A cream sable should not possess grey tones in the undercoat, just clear cream.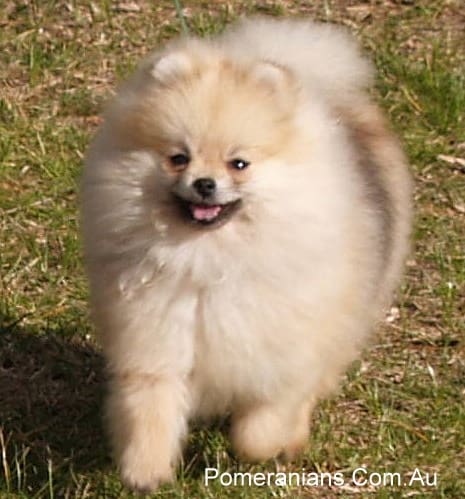 Wolf Sable:
A wolf sable is a grey sable Pomeranian. Wolf Sables have a grey undercoat and the guard hair is grey with black tipping. The grey undercoat and guard hairs can vary in colour from silvery off-white to a light grey. The wolf sable must not have any hint of orange in his coat.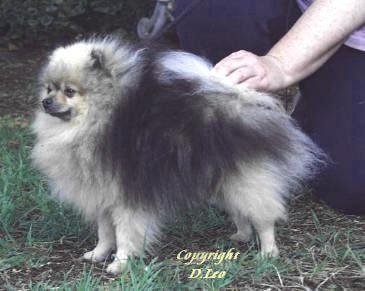 Beginner breeders sometimes mistakenly register a puppy as a wolf sable. Orange sable puppies often appear greyer than orange at six weeks. However, as they mature, the orange comes through. Experienced breeders know to check behind the ears. The actual colour of the hair behind a puppy's ears is a reasonably accurate guide to the Pomeranian puppy's adult coat colour.
Chocolate & Blue Sables: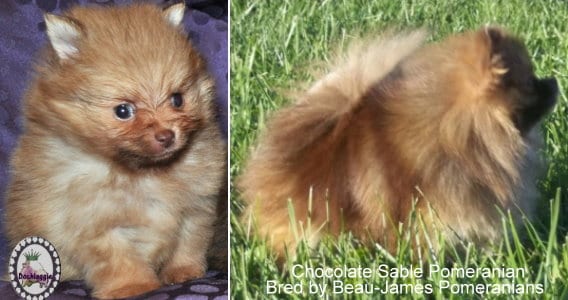 Chocolate Sable Pomeranians have a chocolate base coat with darker chocolate guard hairs ending with black tipping to the guard hairs.
Blue Sables are blue base coat with dark blue guard hairs and again ending in black tipping to the guard hairs.
White:
A white colour Pomeranian should be a solid white with no lemon or cream shadings. The guard hairs and undercoat are also white. A white Pomeranian must have black eye rims, nose, lips, and pads. White Pomeranians are born ice white with pink points.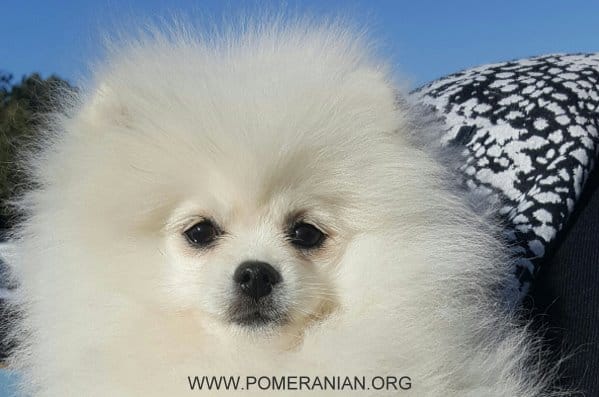 By the age of six weeks, the points should have darkened to black; however, the coat will remain ice white. Cream and light orange, very young Pomeranian puppies are frequently erroneously described as white.
Patterns
Parti colour: is white with any other colour distributed in patches with a white blaze preferred on the head.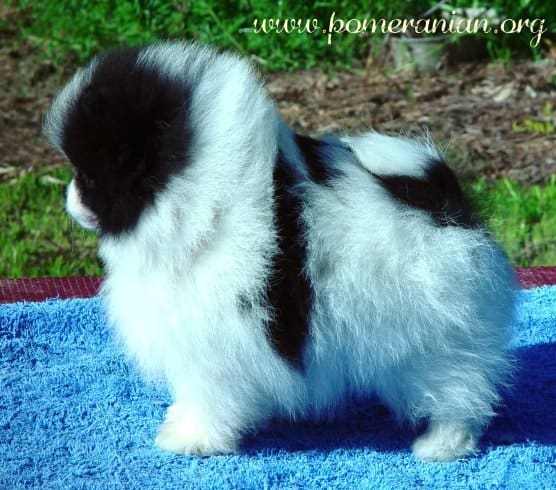 For complete details of Pomeranian colours go to the Pomeranian Headquarters website, but please note Australia and many other countries do not allow many of the Pomeranian colours approved by the American Kennel Club.  Allowed AKC Pomeranian colours include many other colours and patterns.
Merle is NOT an approved Pomeranian colour pattern here in Australia.  
The contentious issue of the black and tan Pomeranian has not been addressed in this article. Black and tans are one of the original breed colour patterns and from my research I can see mention of this pattern was removed from the standard around the 1950s.
N.B. This article was first published on the Pomeranian Headquarters Website and is reproduced here with written consent of the author.
Copyright Pomeranian Headquarters©. All Rights Reserved.
References and Further Reading:
[1] ANKC Pomeranian Breed Standard.
[2] Denise Leo "The Pomeranian Handbook".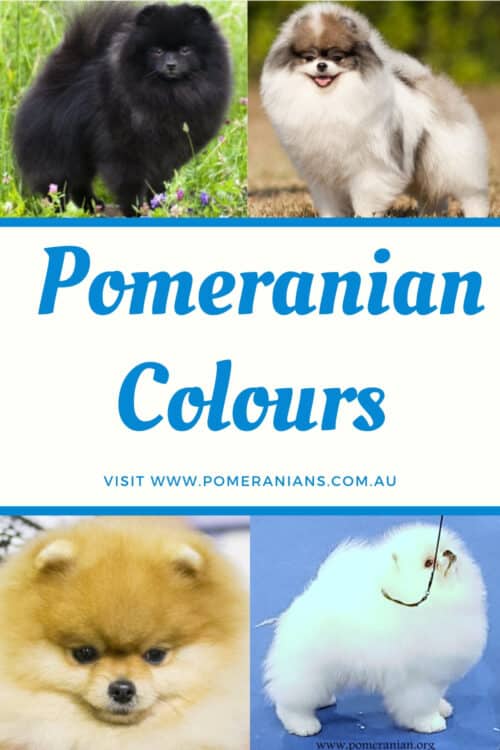 The Pomeranian Handbook
( Printed and shipped in Australia).