Pomeranians are enchanting small dogs who are fabulous canine companions. Many factors influence Pomeranian price.
How Much Does a Pomeranian Cost and Why?
There's a huge variation in the Pomeranian price range. The cost of Pomeranian puppies and the actual Pomeranian dog price is dependent on many variables. Pomeranian cost could be as little as $500 and higher pricing of around $10,000.
Elements Influencing Pomeranian Price
When considering the cost of any quality purebred dog, there are numerous factors involved. You want a dog that's mentally and physically sound, as well as being true to breed type. To evaluate a dog, there are a number of steps, some of which occur before he's even born.
Breeders Generally Have Different Pricing and Many Factors Influence Pomeranian Dog Price
These factors may include the Breeder's location, colour and sex of the Pom, and age of the Pomeranian.
How Much is a Pomeranian Puppy?
Age has an effect on Pomeranian Prices. How much are baby Pomeranians you ask? Pomeranian puppies price range is usually a little more expensive than an older puppy or an adult Pomeranian. So if you are not focused on a 8 week old puppy consider an older Pomeranian.
How Much is a Pomeranian Dog?
Breeder's may have slightly older show prospect pups, who failed to develop correctly for the show ring, but are perfect as family pets available at a discounted price.
Another option is an older adult Pomeranian, who is being retired from a breeding or show program and is available to a loving home. These adult Poms have heaps of love to share and are usually available for a modest Pomeranian price.
The Pomeranian's Sex, Size and Coat Colour Often Influences Pomeranian Cost
The "rarer"coloured Pomeranians tend to attract a heftier price tag than "regular" colours. What is the white Pomeranian price ?
Girl Pomeranian puppy cost is frequently higher than male Pomeranian puppy price. Breeders tend to receive many enquiries for females, especially white girl puppies.
Pups advertised as "teacups" or thought to be very small often attract a higher price tag. Breeders receive lots of queries like how much does a teacup Pomeranian cost?
Pomeranian Puppy Price from a Retail Store or Dealer Might be Higher
Pomeranian puppy cost is often a little cheaper for puppies without kennel club pedigree paperwork.
Health and parentage concerns are usually a major thing to consider with the above options.
Buying a Pomeranian from a Show Breeder Might Be Expensive Owing to Numerous Things
If a breeder wants a show dog, he needs to find the best dog for the job and that means assessing every aspect of the dog. He needs to have enough knowledge of the proper movement and structure of a dog for this purpose. He must also have a full understanding of the standard requirements for that breed.
I only Want a Pet Pomeranian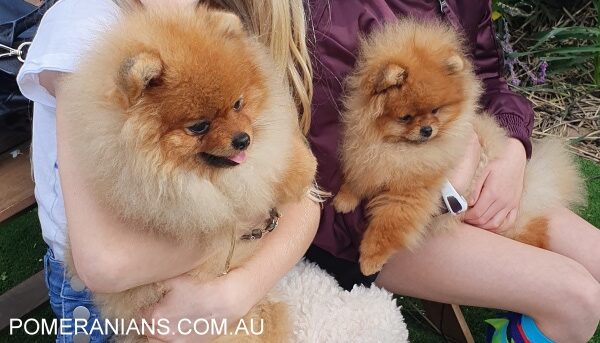 If purchase a pet Pom with "show lines," he's a better quality because he was bred with the aim of being a show dog to begin with. People have lower breeding standards when creating dogs just for pets. They buy two dogs to mate with no regard for the outcome. This can cause problems with conformity and health issues that may not even be revealed until the puppy has grown and has become a much loved family member.
Show Breeder Program Costs
For most people, running a breeding program that's successful and ethical is an extremely expensive hobby and an expression of love for that particular breed.
Location
I am located in Australia. Owing to many factors including, import restrictions, breeding restrictions introduced as a result of influence on political parties, most dog breeds and even crossbreed dogs are in a high demand. Pomeranian puppies sell for a premium price in most parts of Australia.
In the United States Pomeranian puppy price can vary from state to state and shipping of puppies is now very difficult unless the services of a pet nanny is utilised.
Here are a few of the costs and needs that you would need to breed dogs that are good examples of their breed and have a happy and healthy temperament:
You need to buy a high quality show dog after following the other steps listed or it could be a tough job trying to choose the best dog for the job. The costs will be $2500 – $6000 (for a puppy that hasn't even proven its abilities yet.)
Meet other breeders.
Visit shows.
Join dog clubs and attend their meetings.
Attend relevant seminars.
Subscribe to publications that will give you more knowledge to help you choose your dog and care for him.
The annual cost could be $500-$2000+ depending on how much you actually do to learn about the Pomeranian breed.
Care For Your Pom:
Feeding.
Grooming services and supplies.
Vet bills.
De-worming treatments, Flea and Tick products.
Dna profiling and Health testing.
Total can cost around $1000+ per annum for each dog.
Dog Show Expenses
You may have a dog who competes in championship shows which help prove he's worthy and valuable to the breed. You can pay $2000+ which only includes entry fees and travel expenses. Accommodation and meals would be additional costs.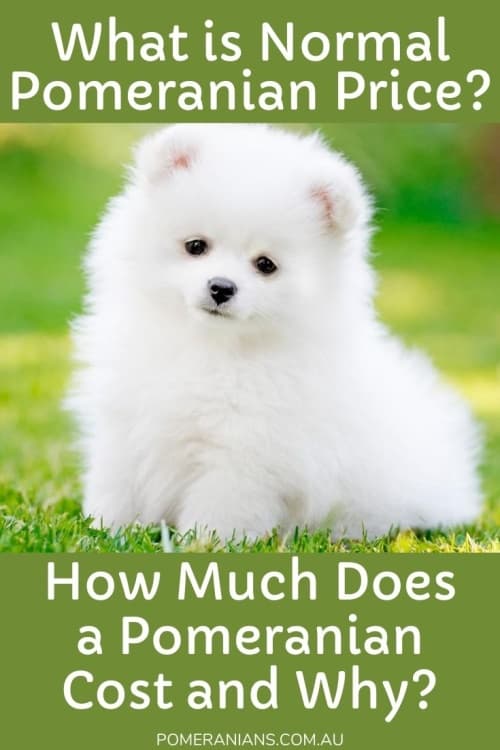 If you assume your dog achieves success in shows, you'll buy another dog of the opposite sex with a complementary pedigree and physical attributes. You're up for the same costs as previously mentioned each time you do this (assuming the first dog was successful). If the first dog wasn't, then you must start again and so the costs will increase even more.
Stud Fee Expenses
You may choose not to buy another male but to pay a stud fee so another breeder can breed your female dog. Stud fees for a male dog who is already a champion range from $500-$1000+ depending on the actual dog. You need to pray that your female dog delivers more than one puppy. (A Pom will usually deliver 1-3 puppies per litter.)
After selecting Pomeranians who complement each other, before commencing the breeding process, genetic screening is recommended. You may also elect to use an outside stud and pay their fees instead of keeping your own male dog. If your Pomeranians have no genetic flaws or problems, you can use them to breed.
Pom Breeding Expenses
Ultrasound is used to see whether the female is pregnant and an x-ray is used for the initial birth to ensure the pelvis has enough width to allow the puppies to be born naturally. If this is not the case, a C-section will have to be performed. Costs are: $250 for an ultra sound, $150 for an x-ray and $2200 for a C-section.
You must register the litter as a whole and each individual puppy as well, de-worm them and get the vet to give their vaccinations, a health check and micro chip. Fees would be around $300 per puppy.
How Much Does It Cost to Own a Pomeranian?
The first big cost is the purchase price of the particular Pomeranian you have chosen. However, it's wise to research the question of the costs expected in the long term. After all, if you're going to love a ball of fluffy fur, you want the best one you can find and get a complete picture of expected costs.
What Costs Are Involved in Feeding a Pomeranian?
I highly recommend investigating the costs of feeding a Pomeranian dog. Size does play a factor but it's not the only aspect to consider. However, feeding a small dog such as a Pomeranian won't be very costly. A Pom usually weighs 4-8 pounds and consumes around one cup of food per day.
Quality food for dogs adds up to $2 – $3 per pound. If you purchase a bag weighing 30 pounds and you spend $55, that will provide you with food for approx. 120 days. So, you'll only need to spend $55 for 120 days' worth of food. The bottom line here is that owning a Pomeranian won't drain the bank when trying to feed him.
How Much Will a Vet Cost?
Generally speaking, a Pomeranian is a sturdy, healthy canine and if he is well fed and gets enough exercise, he shouldn't have many problems with his health. However, as with all dogs, Pomeranians are prone to specific health problems based on the breed.
Pomeranian health problems include:
A collapsing windpipe.
Dental issues due to their mouth size.
Luxating patellas (knee caps slip out of where they belong).
Eye problems.
Allergies.
Coat loss problems.
Breathing issues.
Serious problems that are the most common with Pomeranians and the approximate cost to treat them:
Patellar Luxation – $1,500-$9,000.
Entropion – $1200-$5,500.
Patent Ductus Arteriosus – $4,500-$9,000.
Cryptorchidism – $500-$2500.
If you don't want to breed your Pomeranian, the first thing is ask about spayed/neutered. That will cost anywhere from $250 to $2000.
For a healthy Pomeranian, expect to spend a few hundred dollars for regular vet visits, vaccinations, teeth cleaning and any other problems.
Think about all costs while calculating how much you will need for a Pomeranian.
Pomeranian Grooming Expenses
Another expense is regular grooming. You need to ensure your Pomeranian's coat looks smooth and healthy. You can do it at home to save some money or you can pay a professional groomer $50-$150 per session. You will require Pomeranian grooming supplies.
Pomeranian Training
It's also vital that you take time to train your Pomeranian, particularly if his personality is strong or he can become a dominant little dog and can be very disruptive.
As soon as you can, it's crucial that you enroll him in obedience training. Group lessons of one hour will cost $50 – $150 for a period of 4-8 weeks. That upfront expense will be well worth it because you'll end up with a well-behaved pet.
Pomeranian Dog Supplies
Next is the cost of necessary supplies. You'll need toys of different types, food and water bowls, a leash, a harness, a variety of toys, a brush and a comfy bed.
To assist new owners, I have put together a list of necessary Pomeranian supplies necessary. You might be tempted to go straight to the pet store and buy everything you can see for the new fur baby in your life. Don't give in to temptation or you'll spend far more than you had planned.
The reality is that your Pom won't need heaps of toys, a different harness for each day of the week, all the food you can find, and the most expensive bed. Just buy some basics first. Then you can slowly learn what your dog needs and likes.
The American Pet Products Association conducted a survey and determined that it cost an average of $1641 per year to care for a dog. This covered vet visits, food, grooming, treats, boarding, vitamins and toys. If you have money to buy a dog, and in a survey, the American Pet Products Association found that it costs $1,641 per boarding, grooming, vitamins and toys. If you can afford the initial Pomeranian price and the ongoing expenses, then go for it!
In a survey, the American Pet Products Association found that it costs $1,641 per boarding, grooming, vitamins and toys. If you can afford the initial Pomeranian price and the ongoing expenses, then go for it!
Final Thoughts on Price of Pomeranian Dog
Breeding Pomeranians is an expensive exercise. You need to be passionate about owning Pomeranians because, once you do, you'll never look back and it is hard to stop at one. The initial Pomeranian price is relatively modest considering your Pomeranian will be part of your family for many years.
This article was first published on the Pomeranian Headquarters Website and is reproduced here with written consent of the author.
Copyright Pomeranian.Org. All rights reserved.
References and Further Reading:
[1] Denise Leo "The Pomeranian Handbook".
Learn Everything About Pomeranians in The Pomeranian Handbook
( Printed and shipped in Australia).